Backgrounds: Polka Dots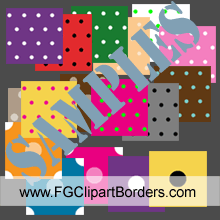 Download a 96K zip file of all 150+ polka dot backgrounds.

Here's a zip file of over 150 colorful polka dot backgrounds for use on your web site, personal space, emails, and more. Download the file one time and you'll have enough polka dots to change the dot color of your web world every couple of days for a year.

The downloadable zip file contains over 150 tileable polka dot backgrounds including all the graphics you see above.
All graphics provided by (and created by): FreeGraphics.com
Once you've downloaded the zip file and used software to unzip it, you may use the graphics for any personal use, but you may not distribute the files (for free or for sale) or include them in any collections for distribution.
All clipart borders and backgrounds are provided by FreeGraphics.com and are free for individuals to use on personal web sites. While all borders are free for personal use, they are copyrighted images of Claire A Schaeffer and may not be included in other collections, offered as downloads, or distributed in any manner without the express written permission of Claire A Schaeffer and FreeGraphics.com